Buy Gigabit Broadband online
Exclusive packages for new customers
Unlimited fibre broadband downloads

Up to 1000Mbps download speeds

Free installation*

12 month contracts
(*) Depending on geographic location
Offers for new Vodafone Home customers. See terms and conditions or our out of bundle charges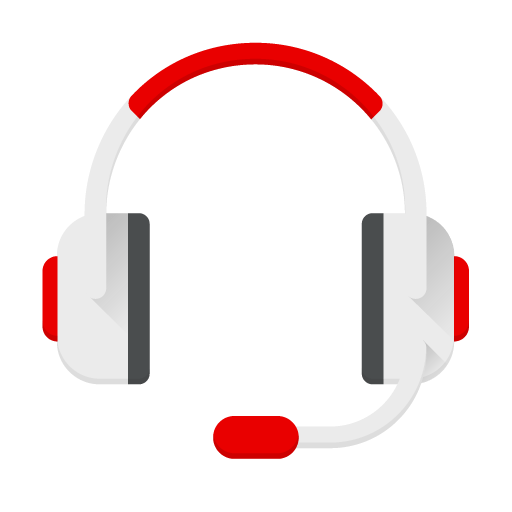 Prefer to talk with someone?
Chat opening hours: Mon-Fri 8am to 8pm; Weekends 10am to 6pm
What's so different about Gigabit Broadband?
No faster broadband
Speeds of up to 1,000 megabits a second so you need never worry about slow internet again. Gigabit Broadband is the ultimate online experience.

A new kind of internet
Fibre optic cable straight into your home - no sharing - so whether you're working, gaming or streaming you won't lose connection.
Never miss a moment
With your own personal fibre link your family can connect worry-free with all their devices.
Free Gigabox modem
The new Gigabox modem offers faster download and upload speeds, extended range in your home and a smart Wi-Fi solution with the new Gigabox app.

Our great Home Broadband wins awards
We're thrilled to have won several awards this year, including Best Broadband Provider 2020 and Bonkers.ie Best Broadband 2020. Join our award-winning broadband today.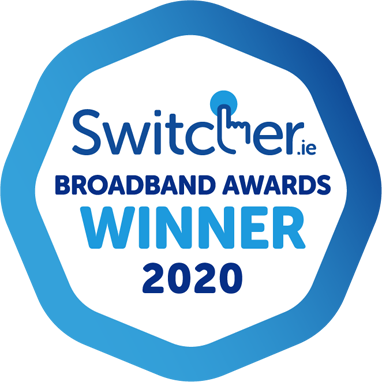 Best Value Home Broadband & Best Broadband Provider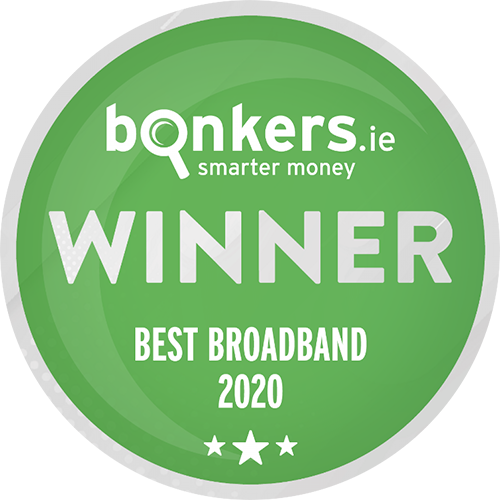 Best Broadband
Download and stream with the fastest broadband available
With speeds up to 1000Mbps, our fibre broadband lets you download in seconds and stream instantly. 
The graphic indicates how fast you could download or stream a high definition movie with our 1000Mbps and 100Mbps connection speeds.

 34 seconds at 1000Mbps

 5 minutes and 43 seconds at 100Mbps
Switch to Gigabit Broadband
Pick the time that suits you

We will do our best to find an installation appointment that fits your busy schedule. If something comes up, we can change your appointment to a time that suits you better.

Quick and easy installation
Our engineer will set you up in hours. It helps if you think about where you want the box to go. And if you're not there yourself make sure someone over 18 who knows what you want is home. 

A service you can rely on
We want to make installation as painless as possible. Our engineer will have everything you need to get going. Our aim is to get it right there and then so you can focus on the important stuff.
Get answers to all your broadband questions
Use our broadband support hub to check our frequently asked questions or chat with an agent.