Vodafone hosts Ireland's first live 5g test
12 February 2018
5g gigabit speeds demonstrated at an immersive exhibition of future technology at the Douglas Hyde Gallery.

Vodafone Ireland, in partnership with Ericsson, have today announced Ireland's first successful live demonstration of pre-standard 5G technology in Ireland.
In a special event at the Douglas Hyde Gallery at Trinity College, Vodafone Ireland and Ericsson achieved 15 Gigabit per second speeds with a latency of less than five milliseconds, demonstrating 5G speeds of the future. Vodafone also tested pre-standard 5G across Vodafone's recently acquired 3.6GHz spectrum.
The event showcased real-life customer applications ranging from remote experts and augmented reality to high speed, low latency, immersive gaming. 5G technology allows a vast array of services delivered in a super-fast and efficient manner simultaneously. Some of the use cases that 5G will gradually enable over time include:
driving super-high speed broadband and media: supporting increasing traffic demands from video services and interactive applications e.g. 4K streaming, video analytics and holograms;
connecting massive numbers of devices: the exponential growth of connected IoT devices is driving more and more use cases, such as smart vehicles (from asset tracking and remote monitoring, to Vehicle to Everything), with the next generation network needing to provide a reliable response to billions of devices;

 providing faster, secure, reliable and robust connectivity which is essential to delivering mission critical services such as real-time video surveillance, self-driving cars, eHealth remote surgery and remote patient monitoring; and

 providing ultra-low latency for human machine interaction: supporting real time response requirements for allowing virtual reality, augmented reality and real-time control of robotics.

The launch event in Dublin showcased what customers and businesses can expect from 5G through an immersive demonstration of future technology. The 'Internet of Skills' presented exciting educational opportunities that will be made available to support the healthcare industry. This support could enable doctors to operate in a VR environment using a haptic glove, while students join the class through VR glasses to experience the operation.
Remote technical experts will make it possible for technicians to avoid hazardous situations by using augmented reality to provide on-site assistance, while intelligent infrastructure has the potential to revolutionise the transport industry. The showcase also demonstrated how federated network slicing orchestration will work and the benefits it will provide for businesses.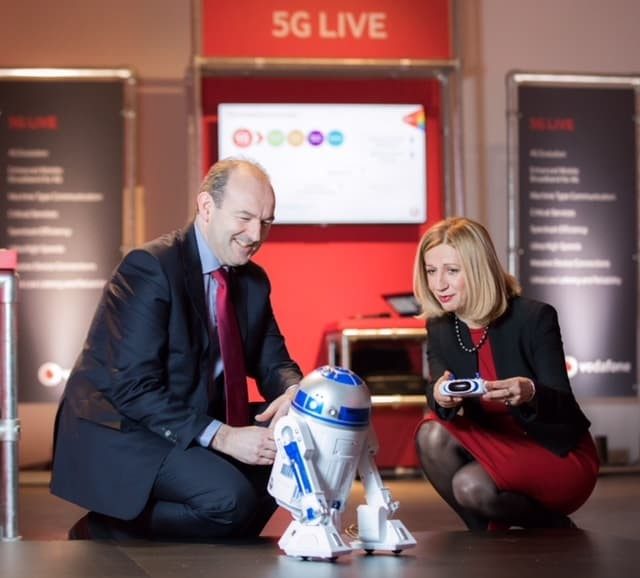 "This first successful trial of pre-standard 5G is an essential step forward in achieving our vision of a Gigabit Society for Ireland. As our network evolves toward 5G it will become even faster and more resilient, will have significantly lower latency, and will allow a huge number of devices to connect simultaneously."
"Vodafone Ireland's path to 5G will build on the great foundation of our advanced 4G network and will enhance and complement our recently launched NB-IoT network that will support the growth of the Internet of Things.
We are committed to continuing to prioritise our network investment across both advanced 4G and 5G platforms, ensuring all our customers will have seamless connectivity to suit their individual digital needs as well as enabling businesses to be more agile."
John Griffin, Head of Ericsson Ireland: "We're proud to be working with Vodafone to showcase pre-standard 5G technology in Ireland for the first time. 5G, with its many and new attributes, will offer a raft of benefits both for consumers and businesses, that will enhance lives and bring to life new and exciting use cases for industries and society. Through these trials, Vodafone can evaluate 5G technology and its opportunities to provide better services to consumers and businesses prior to the commercial deployment of 5G. In addition, these trials will provide us with insights about what use cases will benefit from 5G in the future."
-ENDS-
For further information, please contact:
enior Corporate & Public Affairs Manager
E-mail: emma.casey2@vodafone.com
Phone: +353 87 6881571
Brand PR & Digital Communications Manager
E-mail: clodagh.ohagan@vodafone.com
Phone: +353 87 9084055
Notes to Editors:
About Vodafone:
Vodafone is Ireland's leading total communications provider with 2.3 million customers and employs over 2,000 people directly and indirectly in Ireland.
Vodafone provides a total range of communications solutions including voice, messaging, data and fixed communications to consumers and to small, medium and large businesses. Since 2011, Vodafone has expanded its enterprise division, offering integrated next-generation fixed and mobile solutions in addition to cloud-based platforms, machine to machine services and professional ICT support.
Vodafone Group is one of the world's leading international mobile communications groups with mobile operations in 26 countries, partners with mobile networks in 55 more, and fixed broadband operations in 17 markets. For more information, please visit www.vodafone.ie
About Ericsson:
Ericsson is a world leader in communications technology and services with headquarters in Stockholm, Sweden.  Our organization consists of more than 100,000 experts who provide customers in 180 countries with innovative solutions and services. Together we are building a more connected future where anyone and any industry is empowered to reach their full potential. Net sales in 2017 were SEK 201.3 billion (USD 23.5 billion). The Ericsson stock is listed on Nasdaq Stockholm and on NASDAQ in New York. Read more on www.ericsson.com