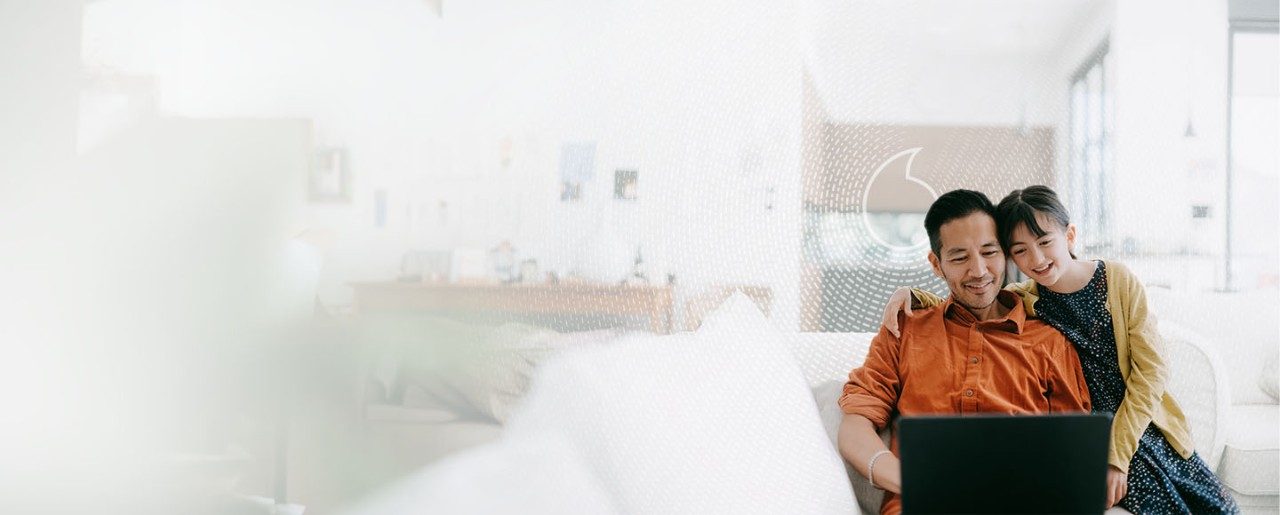 Simply Broadband
€40 per month
for the first 6 months, €45 thereafter
Broadband

Unlimited
fibre broadband
Up to 100Mbps
broadband speed
Home Essentials
€40 per month
for the first 6 months, €50 thereafter
Broadband

Unlimited
fibre broadband
Up to 100Mbps
broadband speed
Home phone

Unlimited
anytime calls to Irish landlines

Home Unlimited
€40 per month
for the first 6 months, €60 thereafter
Broadband

Unlimited
fibre broadband
Up to 100Mbps
broadband speed
Home phone

Unlimited
anytime calls to Irish mobiles and landlines
Give us a call to order on 1800 805 014
Already a Vodafone Home customer? Call 1800 805 014 to chat to an agent 

Vodafone Gigabit Broadband
Put an end to slow internet. Up to 1,000 megabits per second on our fibre cable straight to your home - no more sharing. Hassle-free installation at a time that suits you and a service you can rely on.

Vodafone TV & Broadband
The channels you love plus great features with unlimited broadband for €40 a month for first 6 months when you switch to Vodafone Home. With more than 60 channels on Vodafone TV and more than 80 on Vodafone TV Plus.

Vodafone Mobile Broadband
Get lightning fast mobile internet on our 4G plans for mobile WiFi devices. Connect your smartphone or laptop wirelessly to the internet and you'll get superfast 4G internet, without the need for a fixed landline. 

Vodafone Talk
Just love to talk? Get unlimited anytime calls to Irish landlines for €40 a month with Vodafone Talk. Line rental is included with an 18 month contract. (Unlimited anytime has a fair usage allowance of 5,000 minutes)

Why choose Vodafone Home?
Award winning
Winner of the Switcher Awards for Best Value Home Broadband, Best Customer Benefits and Best Technical Support.

Reliable Network

You can count on the reliability of Vodafone's network. After all, there's no point in having the fastest fibre broadband if the network doesn't work!

Speed
Gigabit Broadband is the fastest available, with speeds of up to 1,000Mbps. 

Value
We have a range of great value and worry free plans to suit everyone.

Frequently asked questions

What do I need to complete an order?

In order to complete an order for home phone & broadband with Vodafone, you will need the following information:
UAN (Universal Account Number) - This will be printed on the bill from your current provider, probably in the top right hand corner.
BIC (Bank Identifier Code).
IBAN (International Bank Account Number).
If you do not have any of these pieces of information you may need to contact our sales team on: 1800 805 014.
Please note that an operational landline is not included in Simply Broadband. If you have a landline based house alarm, you should contact your alarm company.
Is a landline included in Simply Broadband?

No, a landline is not included in Simply Broadband. This plan is designed for customers who do not use and landline because we feel that if you don't use it, you shouldn't have to pay for it.

How does Vodafone TV work?

Vodafone TV is a new service for Irish consumers. Vodafone TV is IPTV; this is TV delivered through broadband. Vodafone TV is a new way to watch TV with all the TV features you expect, all the channels and shows you could want and Netflix at the touch of a button. Read about 7 Day Catchup, Restart TV, Wireless Multiroom and more great features of Vodafone TV here.

How do I track my speeds?

You can track the speed at which your broadband loads webpages and downloads files using many speed checkers on the internet for example
speedtest.net
. 
Do I need a new modem with Vodafone Fibre broadband?

Yes, only the Fibre Broadband modem supplied as part of your order will work on the Vodafone Fibre Broadband service. Any older Vodafone modem supplied for a standard broadband service will not work on fibre broadband.  If you are upgrading from standard broadband (with Vodafone or any other provider) to Vodafone Fibre broadband then you will need a new modem.

What can I do with Vodafone equipment if I am not using it, or have cancelled my account?
If you have any Vodafone Home equipment that you are no longer using (modems, set-top-box, etc). We would like you return this to us as detailed in your contract.
There are three options for returning Vodafone Home equipment. 
1. Return by courier 
In contract accounts
Please contact us on 1907 to arrange collection of the Vodafone equipment you no longer require. A Vodafone agent will arrange an appointment to collect this equipment. When the appointment is confirmed a courier will call to your home or work to collect the equipment.
Cancelled accounts
If you have recently cancelled your Vodafone account, a Vodafone agent will call you to organise for the Vodafone equipment to be collected by a courier. An agent will try to contact you two or three times to organise this recovery order. If these attempts are unsuccessful you will get a text message informing you of the equipment recovery attempt and advising you to call 1907 to make an appointment for collection. Once an appointment is confirmed a courier will call to your home or work to collect the equipment. If you don't arrange another collection you will be charged for the unreturned equipment.
2. Return to a Vodafone retail store
You can also return your Vodafone Home equipment to any Vodafone Retail store. Simply drop the old equipment into your local store.
3. Freepost directly to Fonua
Under special circumstances, if you are unable to be at home/work to facilitate a courier visit, you can post your Vodafone equipment using our free returns service to Fonua Returns, 1 Sandyford Park, Burton Hall Avenue, Sandyford Industrial Estate, FREEPOST F2572, Dublin 18.