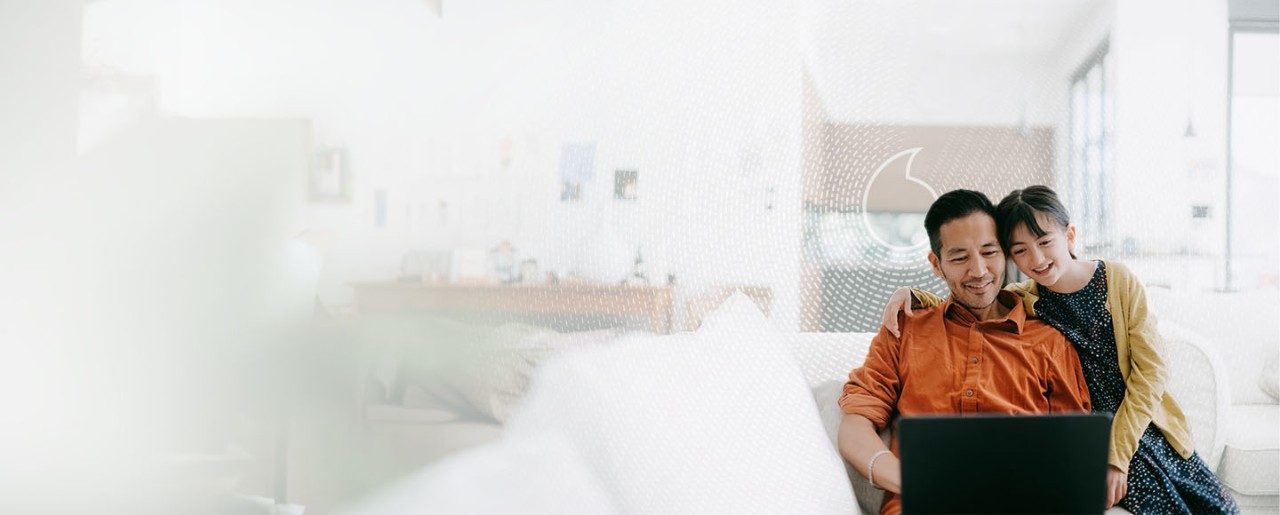 Fast and reliable home broadband at a brilliant price
Unlimited downloads with all our Vodafone Broadband deals
Free installation when you switch to Vodafone online*
Gigabox+ modem
The Gigabox+ is our most advanced modem yet and available exclusively with our Gigabit 2000 Fibre package. Some of its top features include:

WiFi 6 is the next generation of WiFi and brings more than just faster speeds


Prioritisation feature - Meaning you can prioritise your work video call connection over your kids watching TV downstairs


Eco-friendly - Use of at least 30% of recycled plastic in the product housing and use of 100% recycled outer packaging


 
Super Wifi
€5/month

Connect in every corner of your home.
If you're not 100% satisfied you can cancel at any time.
Vodafone Always Connected
€5
/month
Automatic network back-up for your broadband.
If you're not 100% satisfied you can cancel at any time.
Vodafone TV
€20
/month
Wide range of top channels and features.
Plus premium add-ons like Sky Sports.
Vodafone Secure Net at Home
€2.99
/month
Security & parental controls for all your devices
connected to your Vodafone broadband.
Join Ireland's largest home fibre broadband provider

Prefer to talk with someone?
Click chat or give us a call to order on 1800 805 014
Chat opening hours: Mon-Fri 8am to 8pm; Weekends 10am to 6pm
Frequently asked questions
How do I get the best broadband deal available to me?

Find our best broadband deals and bundles online. You can check what services are available in your area by entering your Eircode or address into our address checker. Depending on your location we have broadband offers that can bring superfast download speeds of up to 100Mbps, 500Mbps and even 2000Mbps Gigabit to your home.

Do I really get unlimited downloads?

Unlimited means that you don't have to worry about using to much internet. If you are working, surfing the net, playing games with friends on the internet or watching your favourite shows on Netflix, our superfast broadband bundles can cover anything you need.

How long is the broadband contract?

12 months. Yes, you can get online with our unlimited fibre broadband packages with just a 12-month contract. And you can bundle with Vodafone TV to unlock a world of entertainment on the same term.

What is in a broadband bundle?

Looking to bundle and save? We put you in control of your broadband package with the latest technology add-ons available from as little as €5pm.
Super Wi-Fi offers a supercharged Wi-Fi connection to every corner of your home while Always Connected brings the power of our mobile & broadband networks together to keep you and your family online and connected.

Can I get Vodafone broadband without a phone line?

Yes, you can get broadband on it's own if you wish. Should you wish to stay in touch with friends and family you can add Broadband Voice free of charge with our broadband deals which gives you free calls to Irish landlines. Our online address checker is the quickest way to see if Irelands best broadband is available in your area.

Use our broadband support hub to check our frequently asked questions or chat with an agent.