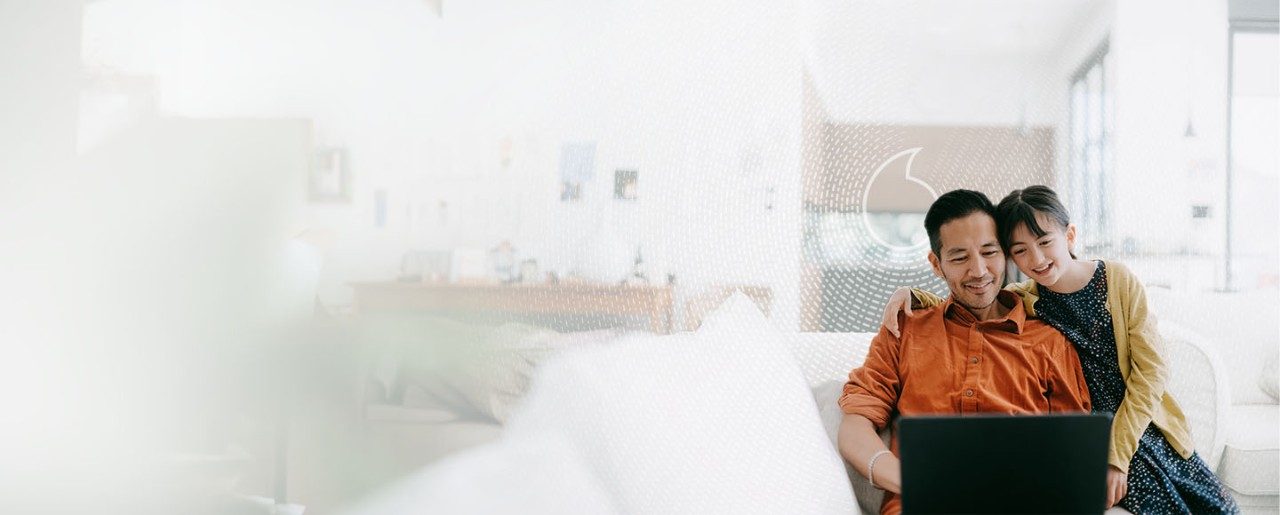 Select your perfect plan - from €25 a month* limited time offer

Simply Broadband
€25* per month
for the first 6 months, €45 thereafter
Broadband

Unlimited
fibre broadband
Up to 100Mbps
broadband speed
Home Essentials
€25* per month
for the first 6 months, €50 thereafter
Broadband

Unlimited
fibre broadband
Up to 100Mbps
broadband speed
Home phone

Unlimited
anytime calls to Irish landlines

Home Unlimited
€25* per month
for the first 6 months, €60 thereafter
Broadband

Unlimited
fibre broadband
Up to 100Mbps
broadband speed
Home phone

Unlimited
anytime calls to Irish mobiles and landlines
Give us a call to order on 1800 805 014
*Offer available to new Vodafone Home customers only and valid until 28/02/2018. Price after 6 months' promotion period depends on package selected. 18 month contract. Excludes Vodafone Talk.
Already a Vodafone Home customer? Call 1800 805 014 to chat to an agent about our fantastic upgrade options
Why choose Vodafone Home?
Award winning
Winner of the Switcher awards for Best Value Home Broadband, Best Customer Benefits and Best Technical Support.

Reliable Network

With Vodafone you can always count on the reliability of our network. After all, there's no point in having the fastest fibre broadband speeds if the network doesn't work!

Speed
Gigabit Broadband is the fastest available, with speeds of up to 1,000Mbps. 

Value
We have a range of great value and worry free plans to suit everyone.

Frequently asked questions

What do I need to complete an order?

In order to complete an order for home phone & broadband with Vodafone, you will need the following information:
UAN (Universal Account Number) - This will be printed on the bill from your current provider, probably in the top right hand corner.
BIC (Bank Identifier Code).
IBAN (International Bank Account Number).
If you do not have any of these pieces of information you may need to contact our sales team on: 1800 805 014.
Please note that an operational landline is not included in Simply Broadband. If you have a landline based house alarm, you should contact your alarm company.
Is a landline included in Simply Broadband?

No, a landline is not included in Simply Broadband. This plan is designed for customers who do not use and landline because we feel that if you don't use it, you shouldn't have to pay for it.

How does Vodafone TV work?

Vodafone TV is a new service for Irish consumers. Vodafone TV is IPTV; this is TV delivered through broadband. Vodafone TV is a new way to watch TV with all the TV features you expect, all the channels and shows you could want and Netflix at the touch of a button. Read about 7 Day Catchup, Restart TV, Wireless Multiroom and more great features of Vodafone TV here.

How do I track my speeds?

You can track the speed at which your broadband loads webpages and downloads files using many speed checkers on the internet for example
speedtest.net
. 
Do I need a new modem with Vodafone Fibre broadband?

Yes, only the Fibre Broadband modem supplied as part of your order will work on the Vodafone Fibre Broadband service. Any older Vodafone modem supplied for a standard broadband service will not work on fibre broadband.  If you are upgrading from standard broadband (with Vodafone or any other provider) to Vodafone Fibre broadband then you will need a new modem.