Vodafone Ireland switches on first 5G network in five cities
17 September 2019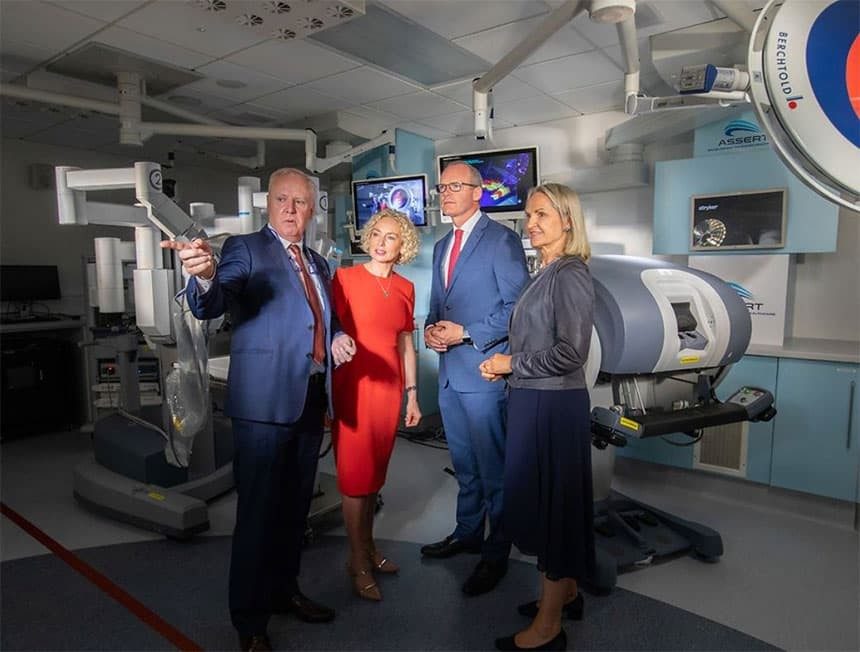 VODAFONE IRELAND SWITCHES ON FIRST 5G NETWORK IN FIVE CITIES
Vodafone's next-generation network goes live in locations in Cork, Dublin, Limerick, Galway and Waterford with additional locations planned in 2019
Landmark announcement made as Vodafone Ireland connects world's first tele-medicine and medical robotics training centre to 5G
The ASSERT Centre in Cork to become a Vodafone 5G global centre of IOT excellence for healthcare
Tuesday 13th August 2019:  Vodafone Ireland has today become the first mobile operator in Ireland to launch commercial 5G. Vodafone's next generation network will not only provide faster speeds for customers but it is set to have a huge impact on technology use and adoption in nearly every industry across Ireland.
Live across locations inCork, Limerick, Dublin, Galway and Waterford, Vodafone will continue expanding the network to further locations in Ireland over the coming months.  
Furthermore, Vodafone has today announced a strategic partnership with the ASSERT Centre in University College Cork (UCC), making it the first 5G connected telemedicine and medical robotics training centre in the world.
The ASSERT Centre at UCCenables clinicians, industry and academics across a broad spectrum of healthcare research, to design, develop, deploy and trial innovative and disruptive healthcare solutions, in a simulated healthcare environment that deliver real world solutions for healthcare problems in the developed and developing world.
The ASSERT Centre showcases *real-time monitoring, *telemedicine, and *robotic surgery, integrated with wearable IoMT-based devices. This provides a consolidated ecosystem that truly digitizes healthcare to provide personalised, precise, predictive, participatory and timely healthcare that benefits patients, their care-givers, healthcare professionals and healthcare providers. 
Today's ground-breaking 5G announcement is set to revolutionise healthcare delivery across Ireland and the world, with ASSERT in Cork to become a Vodafone 5G global centre of IOT excellence for healthcare and end-to-end solution development.
Vodafone's new 5G network consists of fully standardised Ericsson 5G, which is being deployed over Vodafone Ireland's recently acquired 5G spectrum. This game-changing network will support many other new technologies - including artificial intelligence, the internet of things, connected cities and self-driving cars. 
*5G Handsets 
Vodafone Ireland bill pay customers have the option of purchasing a Huawei Mate 20X 5G in retail stores or online from tomorrow, 14thAugust or can pre-register for a Samsung S10 5G, which will be available to buy from 30thAugust. Customers can pre-register their interest for a Samsung S10 5G handset in store or on www.vodafone.ie from 14thAugust. Vodafone will be first to market with both 5G devices.
In addition, if a Vodafone customer already owns a 5G enabled phone, access to the Vodafone 5G network across live locations can be requested by calling 1907 or going in store or access web-chat online 
*5G Tariffs 
You will need a 5G ready plan, 5G coverage and a 5G phone to connect to the Vodafone 5G network. All of our consumer RED Complete Plans and RED Business plans are 5G ready and range in price from an introductory offer of €25 euro per month for sim only and from €40 euro per month with a handset. *Handset pricing depends on choice.
Details on consumer 5G are available here https://n.vodafone.ie/network/5g.html and at https://n.vodafone.ie/en/business/why-choose-us/5g-for-business.htmlfor business customers.
Once you have a 5G ready plan, simply visit us in-store, call us on 1907 or access web-chat online and we will provision you with 5G.
Speaking at the event, Anne O'Leary, CEO of Vodafone Ireland said: "This is truly a historic occasion for everyone at Vodafone, for me personally and for the ASSERT Centre. As a business, we have spent the last 18 months preparing the groundwork for the launch of Ireland's first commercial 5G network and today we begin our switch-on in locations in Dublin, Cork, Limerick, Galway and Waterford.  
5G is set to revolutionise how we use and adopt technology and will have a huge impact on businesses and society in Ireland. It will bring high speed, ultra-low latency and highly secure connectivity to a massive amount of devices; and is a technology that will unlock a vast array of new use cases through Vodafone's next-generation network.
"I am incredibly proud to announce a new strategic partnership with the ASSERT Centre in UCC, Cork, a centre truly at the cutting edge of medical innovation. This is the first centre of its type in the world that will be connected to 5G. Through ASSERT, and its connection to Vodafone's 5G network, surgeons can now train to use world leading technologies that will radically change our lives and deliver solutions to healthcare problems across the developed and developing world."   
-ENDS-
Notes to Editors: 
About Vodafone: 
Vodafone is Ireland's leading total communications provider with 2.3 million customers and employs over 2,000 people directly and indirectly in Ireland.
Vodafone provides a total range of communications solutions including voice, messaging, data and fixed communications to consumers and to small, medium and large businesses. Since 2011, Vodafone has expanded its enterprise division, offering integrated next-generation fixed and mobile solutions in addition to cloud-based platforms, machine to machine services and professional ICT support.
Vodafone Group is one of the world's leading international mobile communications groups with mobile operations in 25 countries, partners with mobile networks in 44 more, and fixed broadband operations in 18 markets. For more information, please visit www.vodafone.ie
*ASSERT -  Three types of healthcare technologies were showcased today at ASSERT.
Telemedicine (TM):
Telemedicine is the remote delivery of healthcare services, such as health assessments or consultations, over telecom infrastructure. It allows healthcare providers to evaluate, diagnose and treat patients using common technology, such as video conferencing and smartphones, without the need for an actual in-person visit. When healthcare systems utilize this technology, patients can often get treated sooner and have access to specialists. 5G can enable more effective TM delivery. As the use of IoT technologies continues to grow, the amount of data on networks is expected to increase more. TM requires a network that can support real-time high-quality video, which often means wired networks. With 5G, healthcare systems can enable mobile networks to easily handle TM appointments, which can greatly increase the reach of the program.
Remote Patient Monitoring (RPM): 
Also called telehealth, RPM is a technology to enable monitoring of patients outside of conventional clinical settings (e.g. in the home). By using IoT devices or wearables, healthcare providers can monitor patients' blood pressure, ECG, temperature etc. in real-time. Gathering data will be faster and reliable, that can be used to improve personalized and preventive care. 5G will also have benefits in areas such as remote diagnosis and imaging. For instance, 5G will support the application of virtual reality which can have important benefits in the delivery of medical care, e.g., in the diagnosis and treatment of critical medical episodes such as strokes.
Robotic Surgery: 
Also known as Remote Surgery or Telesurgery is a robot-assisted surgery, allows doctors to perform many types of complex and delicate procedures with more precision, flexibility and control than is possible with conventional techniques. The big advantage of using a 5G network for remote surgery is the reduced latency it offers. The lower the latency, the more responsive the surgery robot will be to the surgeon's actions tens or hundreds of miles away.