Broadband Voice, Voice over Internet Protocol (VoIP) and Voice over Broadband (VoBB) are different names for the same service.
Broadband Voice is a technology that allows you to use home phone services over your fixed broadband connection using your modem.

How do I set up Broadband Voice?
Setup is easy! Take a look at our simple to follow video guide or, just follow the steps detailed below.
1. Once active, the phone LED light on your modem will flash. If the phone LED light is flashing you will need to restart your modem and wait 5 minutes until the light is static.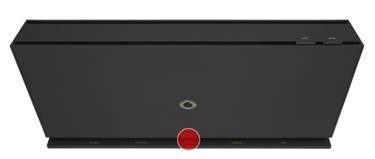 2. To use your voice service, you will need to unplug your phone cable from your telephone socket and place the cable into the 'TEL 1' slot at the back of your Vodafone Broadband modem.
3. If this requires you to move your phone, then we recommend that you use a cordless (DECT) handset.
4. If you ordered voicemail as part of your services, you can access this feature by dialling 171. By now you will have received your voicemail PIN by text. For security reasons you will need to reset your PIN when you first access your voicemail.
5. To set up any additional call services, e.g. call answering or outgoing call barring, please call us on 1907. 
I'm having trouble with my Broadband Voice
If you're having an issue with no dial tone on your Broadband Voice services, check out our
support video
 on how to resolve this. 
What type of broadband do I need to have to get Broadband Voice?
You need to have 'Fibre' or 'Fibre to the Home' broadband. 
What will happen to my existing landline number if I move to Broadband Voice?
In most cases you can keep your current landline number when you move to Broadband Voice. 

You can see our Broadband Voice terms and conditions here.

Will my existing home phone services (e.g. monitored alarms) be impacted if I move to Broadband Voice?
Vodafone's Broadband Voice services do not support any of the services below:
Monitored house alarm systems

Panic/medical alarm services

Sky box pre-2008

Fax lines/machines

Any bank service machine that relies on an analogue connection (using dial-up equipment) 
However, the majority of newer monitored alarm systems use a GSM (SIM card) solution to connect to the monitoring station and do not require a traditional landline.
If your system still uses a landline, you can contact your alarm provider to upgrade to a GSM solution. This will enable the alarm to be monitored over the mobile network using a SIM card, replacing the reliance on a landline.

How will my Broadband Voice services be impacted during power or broadband outages?
Broadband Voice will be unavailable during electricity or broadband service outages as the voice service is provided over broadband.
It is really important that you keep your mobile phone powered up to ensure you have access to voice and in particular emergency service calls using 999 or 112 if there is a power or broadband outage.
You may also consider purchasing a back-up battery service. We recommend purchasing online or if you look for information in our retail store our staff can direct you how to purchase a back-up battery service to support your home broadband or mobile service.
What type of handset will I require for Broadband Voice?
You will require a cordless phone (DECT - Digital Enhanced Cordless Telecommunications) that can be connected into the 'TEL1' port in the back of the modem.

What call management services can a I get on my Broadband Voice service?
The following call management services are available on Vodafone Broadband Voice:
Call forwarding – you can forward your calls to any home or mobile number (may incur charges depending on type of call)
Call twinning – when someone calls your home phone, your mobile will also ring, making it an additional handset
Call barring – this gives you control over the kind of calls you can make from your home phone (premium, international, mobile)
Please note, voicemail is also available on your Vodafone Broadband Home Phone service.
To set up any of the above services call our customer care team on 1907.