Vodafone Ireland and IRFU announce four-year sponsorship extension
21 September 2023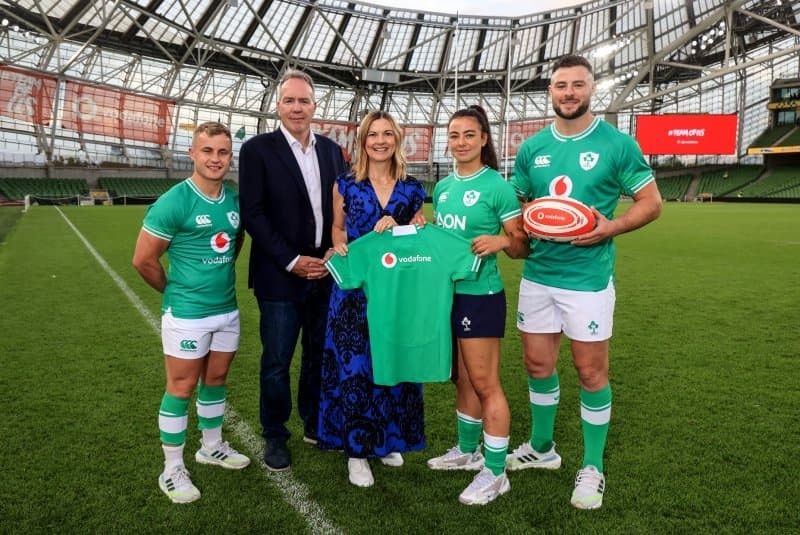 New deal to include Vodafone appearing on back of Ireland women's jersey in 2024
Continuation of the Vodafone Women's Interprovincial Championship partnership
Vodafone Ireland and the Irish Rugby Football Union (IRFU) today announced a four-year extension to their partnership which will see Vodafone continue as the principal sponsor of the Ireland men's rugby team and communications partner to the IRFU through to 2028.
The new deal, which will commence on 1st July 2024, includes a key partnership with the Ireland women's team, which will see the Vodafone brand appearing on the back of the women's jersey from 2024 and the continuation of the Vodafone Women's Interprovincial Championship partnership.  
The multi-year partnership will see Vodafone and the IRFU continue to work together to use new and existing 5G technology to enhance both fan and player experiences.
Vodafone customers will continue to enjoy numerous benefits including exclusive content while players and coaches will also benefit from the Vodafone Technical Area where they will use 5G Mobile Private Network (MPN) technology to enhance analysis capabilities and adjust training performance in real time.
Speaking about the sponsorship extension, Amanda Nelson Vodafone Ireland CEO said; "At Vodafone, we take great pride in being the principal sponsor of Irish Rugby since 2016 and we're delighted to be extending our partnership for a further four years to 2028. We have worked hard to create the most interconnected team and fanbase on the planet and want to continue helping fans feel the connection to Irish Rugby. We also have a shared ambition with the IRFU to grow the game on the island of Ireland, so I am very proud to announce the continuation of our partnership as principal sponsor of the immensely successful men's team alongside the fantastic Vodafone Women's Interprovincial Championship and now the expansion of our partnership to include the Ireland women's team.  
We have also recently expanded our role as IRFU technology partner through their adoption of the latest cutting-edge 5G Mobile Private Network (MPN) technology to increase the communication of performance data between the coaches and players. They are the only team to have access to this technology during the Rugby World Cup in France with the bespoke Vodafone 5G Connected Van.
Finally, I would like to take this opportunity to wish the team, management, and backroom staff every success over the coming weeks at the Rugby World Cup."
IRFU Chief Executive Kevin Potts commented, "The IRFU are thrilled to extend our partnership with Vodafone and warmly welcome the increasing role they are taking in our women's game.
Since 2016 Vodafone has been the official sponsor of Irish Rugby __ and together, we have experienced great success. As a not for profit, the revenue from sponsorship deals such as these are crucial to the delivery of our plans to ensure Irish rugby teams remain competitive on the global stage.
I'd like to thank Amanda and her team for their commitment and investment in Irish rugby.  The activation of "Team of Us" by Vodafone has been fantastic exposure for the IRFU brand and we look forward to continued success, both on and off the field, together for years to come."