Vodafone to bring Multi-Access Edge Computing to Irish Manufacturing Research as part of extended partnership agreement
11 March 2022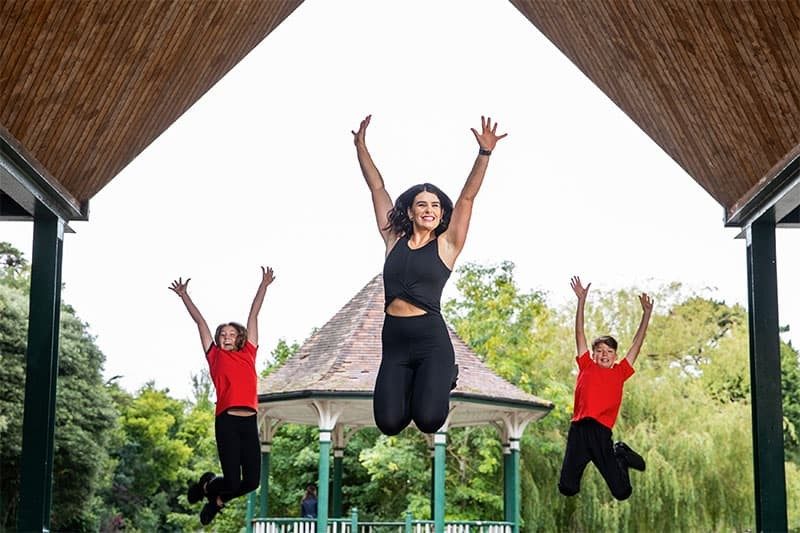 Friday 11th September
Latest Vodafone Ireland research reveals family time is more important than ever
 ** 
Karen Byrne of Dancing with the Stars launches the Vodafone Red Family Challenge giving one family the chance to win a free family mobile plan for one year!
63% say they appreciate family time more since the COVID-19 pandemic
52% claim the best part of being at home during lockdown was spending quality time with family
47% of families learned a new skill together during their time at home
58% say they have made changes to ensure more time is spent as a family going forward
 ** 
Vodafone Ireland has today launched the 'Red Family Challenge', a dance competition that will give one family the chance to win a year free of phone bills for all the family.  __  
 __ 
Research* conducted by Vodafone Ireland has found that since the COVID-19 pandemic, family time has become more important than ever to the Irish public, 63% state that lockdown has made them appreciate family time a lot more. Half (50%) of respondents claim that lockdown has meant they have increased the amount of time they spend together as a family unit. Of these, 48% do this by making an effort to eat more meals together and a third  (35%) ensure they do more family-focused weekend activities.
 According to the report, carried out by iReach and commissioned by Vodafone, over half of respondents (52%) say that the best part of being at home with the family during lockdown was spending quality time together, that 'normal' busy life doesn't allow for.
46% of all those surveyed enjoyed spending time outdoors together, while over a quarter (26%) feel they got to know their family members' personalities more.
Lockdown gave many people time and space to learn new skills  and nearly half (47%) of families learned something new together. The most popular activities to learn together as a family were baking and cooking (54%) and gardening (42%). While families spent time learning new skills together, the research also found that screen time also increased during lockdown with 57% saying they spent more time on devices while at home than normal. 39% say screen time was the same as before and only 4% said less time was spend on devices.
Over half of families in Ireland (58%) say they have made permanent changes to ensure more time is spent as a family together as a result of lockdown and Vodafone Ireland want to put this to the test with the launch of its Red Family Challenge. To take part families need to :
Visit the Vodafone Facebook or Instagram page @vodafoneIreland
Learn the dance routine created by Dancing with the Stars professional Karen Byrne
Choose their own song to perform the dance to
Upload their family dance challenge routine to Instagram or Facebook tagging @VodafoneIreland AND including #RedFamily
Karen Byrne will select a winner who will be contacted directly
For full T&Cs visit https://n.vodafone.ie/terms/comp.html
The Vodafone Red Family plan offers unlimited data and great savings for all the family by bringing everyone's mobile plans together on Vodafone's multi-mobile plan. Red Family makes it easier and more affordable than ever for families to stay connected. Family members can enjoy free calls and texts to one another, whether at home or abroad, and the convenience of just one bill.
Commenting on the research and competition launch, Rachael Crawley, Brand and Communications Manager at Vodafone Ireland said:
"This year has shown us how important it is to be connected to each other, particularly with family. The research really highlights how important family is to us and while time in lockdown was extremely difficult, it did give families the chance to spend some quality time together. With the launch of this competition, we're encouraging families to continue to spend time with one another and learn a new skill through the Red Family Challenge. We're offering one lucky family the chance to win free phone bills for all the family for a full year.  The Red Family Plan makes life much easier with unlimited data, unlimited calls and texts to family members, with the convenience of one bill and monthly savings on Ireland's best mobile network."
For more information, visit: https://n.vodafone.ie/shop/bill-pay/plans/family-plans.html
Nationwide Study conducted by iReach Insights with fieldwork undertaken between 3rd to 9th of September 2020. The survey received over 1,000 responses for adults (18+) in Ireland and is nationally representative by Age, Gender, Region and Socioeconomic Demographics. This research survey delivers a high level statistical accuracy and provides a confidence level of + or – 2.5% at a 95% confidence interval.
 ** 
Ends
 ++
About Vodafone Ireland:
Vodafone is Ireland's leading total communications provider with 2.2 million customers and employs over 2,000 people directly and indirectly in Ireland. Vodafone provides a total range of communications solutions including voice, messaging, data and fixed communications to consumers and to small, medium and large businesses.
Since 2011, Vodafone has expanded its enterprise division, offering integrated next-generation fixed and mobile solutions in addition to cloud-based platforms, machine to machine services and professional ICT support. Vodafone Group is one of the world's leading international mobile communications groups with mobile operations in 26 countries, partners with mobile networks in 55 more, and fixed broadband operations in 17 markets. For more information, please visit www.vodafone.ie