Help Us Connect For a Better Future
The world is changing fast. Now is the time for innovation and digital empowerment. Vodafone provides a global platform for over 50 million people to connect and make things happen all over the world everyday. We create amazing success stories alongside some of life's most epic moments. We make the world a better place and change our customers' lives for good.
But we can't do this alone. We need YOU to be a part of OUR story. Our ideal intern is digitally focused with a curious mindset and dedicated to connect for a better future.
Be the Future
Kickstart your career with an exciting three month paid internship at Vodafone Ireland! You will be working on challenging and creative projects in a friendly and flexible environment. Our future-ready leaders will provide you with expert training and invaluable experiences. Give your career the best start and strive to become a leader of the future!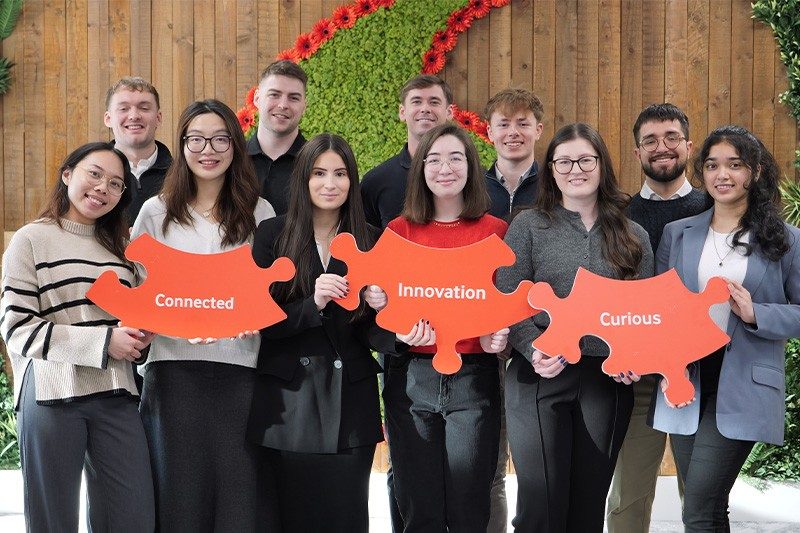 Find Where You Belong This Summer

You could find yourself practically anywhere from HR, Strategy and Finance to Consumer, Commercial Operations, Technology and Vodafone Business. You'll be matched to roles within these seven diverse departments based on your prior experience from university and elsewhere!
Work Your Way
We put our people first and have adapted to how our employees want to work and where they want to work from. We allow our people to balance their professional and personal commitments, so they can focus on the things that matters most to them. ​
Vodafone is moving into a 60/40 hybrid work model. The flexible nature of Vodafone's summer 2022 internship means that you can split your time between working at our Mountain View Office in Dublin and at home (Depending on Government COVID19 guidelines and provided it is safe to do so). 
Internship application timeline
February 1st
Internship Programme applications open

February 28th

Applications close & evaluation of video interviews begin 

April

Virtual Experience Day and Assessment

June 2022

The Internship Programme begins!

Life as a Vodafone Intern

We have created an environment where you can look forward to coming to work and are empowered to be at your best. We offer flexibility in how you work that helps you do your job in a way that suits you, opportunities to help you grow and progress throughout your career and a choice of benefits to suit your lifestyle.
A Fun Job With Serious Benefits
Here at Vodafone we want you to be able to bring your full self to work! That is why we are serious about benefits. When you join the internship Programme, you will enjoy a competitive salary and experience the Vodafone lifestyle! The benefits of being a Vodafone employee go beyond working for a global tech company and include our new Evolve platform which is a robust programme that takes care of everything you need from Mental Wellbeing to physical Fitness and everything in between!

Graduate opportunities upon completion

3 Additional charity days leave

Where Can You Connect?
Explore Vodafone
The HR department is made up of various teams covering a multitude of employee needs such as;
Learning and Development, 
Internal Communications, 
HR Services, 
Employer Branding, 
Talent and Development, 
Recruitment, 
Diversity and Inclusion, 
Health and Safety, 
Property and Facilities, 
Reward and Payroll.
HR touches all parts of the business as it supports and drives the company both internally and externally in making Vodafone Ireland a great place to work. HR has worked on ground-breaking policies such as our LGBTQ+ and Domestic Violence policies which are award winning and unique ensuring that all employees can bring their full selves to work every day.

The Finance business unit is responsible for protecting the financial integrity of the company whilst also driving optimum business performance. This is done by ensuring that all the financial obligations of the company including proper financial reporting, tax compliance, audit, billing and regulatory rules are complied with. The Finance business unit is responsible for protecting the financial integrity of the company whilst also driving optimum business performance. This is done by ensuring that all the financial obligations of the company including proper financial reporting, tax compliance, audit, billing and regulatory rules are complied with.
On the other hand, the Finance BU works in partnership with the rest of the business to ensure that business performance is optimised through delivering revenue growth whilst also ensuring that the business is operating in a lean and efficient manner. The budgeting process and the business partner model that Finance operates delivers on these key goals
Commercial Operations is responsible for ensuring our customers receive exceptional support in relation to any queries they may have about their Vodafone products & services.

This is done through creating the very best customer experience through designing simple customer journeys & processes across all customer facing channels and also through ensuring that our contact centre agents have all they need to be able to resolve customers' queries first time, every time.
Commercial Operations also act as the voice of the customer, ensuring that customer feedback on our products & services is captured and shared with the business in order to continually improve the customer experience.
Vodafone Business is responsible for marketing, selling, building and delivering solutions to our business customers. Our business customers can range from Small, Medium Businesses to Large Enterprise customers and the Public Sector. We scale the complexity of our products to suit our customer's need.

Vodafone Business has a range of roles from; Sales and Delivery, Account Management and Solution Design. The products that we offer our customers can be; Fixed and Mobile, Cloud and Hosting, Fixed Data and Voice as well as Wide Area Network solutions.
We support our customers by offering them solutions to meet their business needs.

The Strategy & External Affairs Business Unit maintain Vodafone's reputation by promoting the work Vodafone does and act as guardians of the reputation and commercial interests of Vodafone, putting the customer at the core of everything we do. We aim to shape the direction of a purpose led Vodafone, maintaining its reputation by shaping policy, embedding risk management, privacy, security and compliance frameworks, managing corporate affairs, legal and regulatory requirements and driving foundation and sustainability activities.
The business unit is made up of Legal, Regulation, Foundation and Sustainability, Wholesale & Corporate Development, Corporate Affairs, Privacy and Corporate Security, Risk and Compliance.


The Consumer Business Unit is responsible for 1.6m customers across Ireland, delivering 570m revenue for the business. At a high level, the team are responsible for; driving a deep understanding of our customer's current and future connectivity needs, creating products and services which help our customers get the most out of their digital lives, the channels which they choose they to buy from us in, ensuring the have a great experience once they join our network and building an emotional connection with Irish consumers through our brand.


The business unit is made up of Marketing, Brand, Sponsorship, Sales, CVM, Devices, Digital Operations and Product and Services.
The Technology department is responsible for the network, IT infrastructure and services which supports out mobile and fixed services. The teams range from networks, IT, performance governance and demand and Technology operations.

The network team cover the physical network of mobile and fixed including site planning, maintenance and network projects that offer services to our customers including 5G and our award winning Broadband.
IT infrastructure and services are responsible for the platforms and applications that our customers use and also for the maintenance and delivering all the services. Ranging from billing and customer care front end platform. They also deliver projects throughout the year to support new capabilities and our strategy especially around digital with a focus on convergence.
Technology Operations ensures all services and networks are running at their optimum capacity. They also support customer care desks and field teams and work with our vendors
The Performance and Governance Demand team cover how we are performing against our KPIs and govern the architecture and processes. This can relate to a range of aspects from engineering to project management and big data.
Here's What Our Interns Say    
Carousel
Meet Mags

"Vodafone consider all college courses and backgrounds. As a Chemistry student in UCC, it made me realise how diverse Vodafone is and that you don't have to have a business or technology degree to work here!

"I've developed my strategic planning, leadership, team work and presenting skills. I loved the freedom we were given to explore other areas of the business and enjoyed making new friends in such a fun and dynamic environment. I'll definitely be applying for the Graduate Programme."


Meet Eoin 

"During my time in Vodafone, I got the opportunity to work on the product and marketing team in Vodafone Business. In my role, I got to work on our corporate sponsorship events with our partner the IRFU.

"My time in Vodafone, allowed me to expand my network and grow my skills in stakeholder and event management. It was a really great Summer, where I got to explore my career options and get my career off to a great start."

Meet Demi

"Vodafone doesn't do 'a regular internship'. Despite being an intern, everyone treated me as part of the team, giving me opportunities to voice my opinion on big projects.

"I particularly enjoyed organising a fundraiser in aid of ISPCC Childline. The whole process of creating an idea, pitching it and seeing it come to fruition was incredibly rewarding all while raising money for a good cause. I will definitely be applying to the Graduate programme!"


Meet Chloe

"Vodafone gave me opportunities which I never thought I'd have during an internship. I ran communications for a business transformation project while also working in the consumer department creating campaigns for Gigabit broadband.

"I was also an active member in the Women's Network and CWIT (Connecting Women in Technology). I was given so much trust, responsibility and opportunities to improve my career and grow in confidence as an individual."

 
What do I need to make an application for the Internship Programme?
What does the application process involve?

When you apply for the Vodafone Internship Programme, you will be asked to fill out an application form. This allows us to get to know you and your background of experience! You will attach your CV here so make sure it is in top shape!
Successful candidates will be then asked to take part in an online video interview, which you can read more about below. The last round is the Virtual Experience Day where you will be invited to an online assessment centre to conduct your final round interview and team work exercises. You will also get to meet with Vodafone employees who will tell you all about life at Vodafone.

Do I need a work permit to apply?
Everyone who applies must be fully eligible to work in Ireland for 3 months or more from the start date of the role. If you have applied for a work permit, it must be in effect from the 1st June 2022.
Do you take extenuating circumstances into account on applications?
I was educated outside Ireland - can I still apply?
Yes of course! Make sure you state your exact qualifications on your CV before you upload it. Please ensure that your qualifications are equivalent to a 2:2 in an undergraduate degree (in any subject).

Any tips for when I am making an application?
Applications are made via a standard electronic application form. This needs to be completed as thoroughly as possible so take your time when going through this so you answer it to your very best!
You will be asked to provide initial information such as your personal details and education, and there will also be some further questions which are necessary to complete in as much detail as possible.
These are designed to capture information about your motivation to join our Internship Programme and to understand your competencies in some of the areas we feel are important for all our employees to possess.

How do I answer the motivation questions?
When answering the first question you may wish to tell us about the reasons you chose the Internship Programme at Vodafone. Think carefully about the information you provide.
How do I answer the competency-based questions?
To answer the competency based questions you should draw on your work experience, extra-curricular activities and student life! Please try to use examples from your most recent roles or situations. This will make it easier for you to recall some of the details.
Please be very specific about your contribution as an individual when you are giving an example.
Your responses should be structured in a particular way. We would like you to outline each situation by breaking it down into the following parts (STAR):
Situation (what was the context)
Task (what tasks or components were involved in the situation)
Actions (what did you actually do, how did you do it, what was your thought process)
Result (what was the outcome in that situation)


How does the application process work?
Can I withdraw my application if I change my mind?
How soon after each stage will I hear if I've been successful?
Within two weeks. If we're particularly busy it may be slightly longer, but we'll always let you know in advance.
What will the online interview involve?
You will have a 15 - 20 minute video interview. It would be really beneficial to think about why Vodafone is the right place for you - we think it's great here but we want to know why you want to join us. The video will start and questions will appear. You will have time to answer and record your answer – you will have 3 chances to record each answer so don't worry if you don't get it right the first time! Make sure you do it in a quiet place where you won't be interrupted!
It's useful to structure your answers using the STAR technique (Situation, Task, Action, Result). We are looking for you to explain a little bit about the situation you were in, the task you were trying to complete, the action you personally took to get to a resolution, and the result of your efforts. This helps us to really understand the example you're referring to.
If you have any difficulty contact: graduate.recruitment@vodafone.com


What should I wear to the Virtual Experience Day?
Smart casual is fine. We don't expect you to come suited and booted.

What will happen on the Virtual Experience Day?
The Virtual Experience Day will involve a group exercise, a face to face interview and lots more. You'll get the opportunity to meet lots of our people, both senior level and current graduates. You'll get the chance to find out what it is really like to work on our youth programmes at Vodafone. You will also be given exclusive insight into what you'll be doing in your day-to-day roles if you join us.
If I attend the Virtual Experience Day when will I hear if I have been successful?
We'll let you know as soon as we can, usually within two weeks but this may be longer depending on the volume of applicants.
Can I re-apply if I am unsuccessful?
We ask that you don't re-apply within the same recruitment season (i.e. placements starting in June 2022), but you are more than welcome to apply for the next Internship Programme when we open for applications.
What will happen if I am offered a place?
Where will I be working if I am successful?
You will be working in our head office in Leopardstown, Dublin for your project work. If you use public transport; we are on the Green Luas Line and there is also a free shuttle bus that runs from the city centre to our business park!

Will you want employment references if I get a place?
Yes. You'll go through a number of verification tests, covering current and previous employment, education, residency and relevant professional qualifications. If the results of these don't add up with what you've told us, we'll have to take back our offer.

Can I apply for the Graduate Programme when I am on the Internship Programme?
The Internship programme is for 3 months. You will be eligible to apply for a Graduate position when you finish the programme but you will not commence that role until September 2022.
Who can I contact about the Internship Programme?
What if I need to chat to someone about a question I have?
If you have a concern or a technical issue, which has not been covered on the site or in these FAQs, and you'd prefer to chat to us, then email 
graduate.recruitment@vodafone.com
Who do I contact if I have a technical problem when applying?