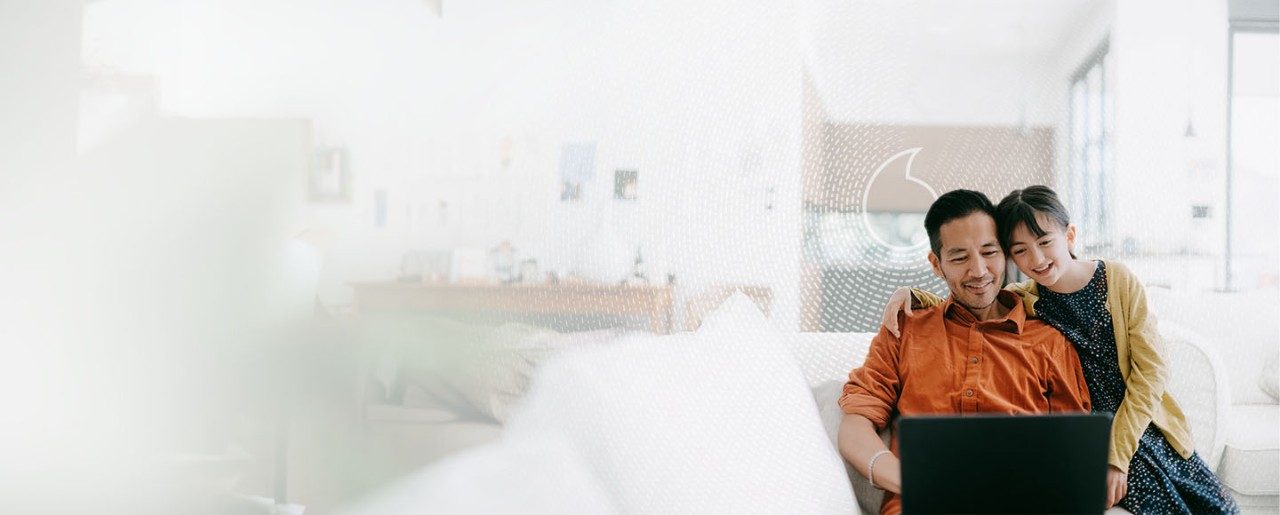 Switching from your broadband provider to Vodafone today?
✔ IBAN
This is the bank account code marked 'IBAN' on your bank statements.

✔ Your current provider details
We will need your UAN code, your CRN number and your landline number. Please refer to your bills to get these.

Online exclusive offer!
Fibre Broadband only €25 per month for the first 6 months
€25 per month for first 6 months. From €40 per month thereafter .**

Get TV and Broadband Voice for no extra cost for the first 6 months
Discover Vodafone TV
Add Vodafone TV for no extra cost for the first 6 months. Enjoy more than 87 channels plus Premium add-ons like Sky Sports, Premier Sports, BT Sport or Sky Cinema.

Broadband Voice
Add Broadband Voice to any broadband plan for no extra cost for the first 6 months. Unlimited calls to irish landlindes for an extra €5 a month or to mobiles for an extra €15 a month after the first 6 months.
Why choose Home Broadband from Vodafone?
Download and stream with the fastest broadband available
With speeds up to 1000Mbps, our fibre broadband lets you download in seconds and stream instantly. 
The graphic indicates how fast you could download or stream a high definition movie with our 1000Mbps and 100Mbps connection speeds.

 34 seconds at 1000Mbps

 5 minutes and 43 seconds at 100Mbps
Frequently asked questions
How do I pay my home phone and broadband bill?
The quickest and easiest way to make a payment is Online:
It's quick and painless to set up Direct Debit via My Vodafone At Home. To set-up a Direct Debit online please login and complete the DD mandate form. You can also set up a recurring payment on your debit or credit card if you so wish.
Alternatively, you can make one-off payments (€5 or more) with your Credit or Debit card here
If you have never accessed My Vodafone At Home you can quickly register here.
Other payment options:
By Phone - Call our automated phone service on 1907 and follow these instructions to make a payment:
Select 2 for 'Landline, Broadband and Vodafone TV Services' then
Select 1 for 'Making a Payment, Subscribed Services or any Open Line Faults' then
Select 2 for 'Make a Payment'
Post Office - Pay your bill by cash, debit card or cheque / postal order / bank draft (credit card not accepted). Retain your receipt for future reference.
An Post mybills.ie – Pay your bill via debit card online at www.mybills.ie

PostPoint - You can pay your bill in any retail outlet where the PostPoint Logo is displayed. Retain your receipt for future reference.

Electronic Fund Transfer – you can pay your bill via EFT by setting Vodafone up as a payee on your online or phone banking service. To do this you will need our bank account details:

Swift Code: AIBKIE2D,

IBAN: IE11AIBK93338451281721.
Please ensure you use your ten digit Vodafone customer number as a reference so we can process your payment to your account once we receive it. If you need assistance in setting Vodafone up as a payee please contact your bank who can advise further.

Banking Services - If you're with AIB you can set-up Internet banking and pay your Vodafone bill using 'Transfers & Payments'. Learn more about AIB Transfer & Payments

By Post - Send a cheque / postal order / bank draft made payable to Vodafone Ltd. with your customer number on the back to Vodafone, PO Box 42, Clonakilty, Co. Cork.

Bank giro credit transfer - Complete the bank giro credit transfer form at the bottom of your Vodafone Account Statement and present it, along with the amount to be paid off your bill at any Bank / Building Society.

Note: when checking your online balance for receipt of payment, it can take up to 5 working days for payment to clear. Direct Debit customers will see the date of payment printed on your Vodafone bill.

I can't remember my My Vodafone at Home password
No problem! You can reset your Vodafone At Home password anytime!
All you have to do is go to the Forgot Your Password section, enter your email address and landline number then click 'Continue'. You'll receive an email with instructions on how to change your online password.
How do I get Gigabit broadband?

To find out the benefits of this amazing service, please visit our Gigabit Broadband page and request a call from one of our agents.
If you'd like to see how we compare to other providers, take a look at our compare broadband page.
What is Broadband Voice?

Broadband Voice is a technology that allows you to use home phone services over your fixed broadband connection using your modem.
Find out more here
.
Use our broadband support hub to check our frequently asked questions or chat with an agent.