Our Green Network, now powered by 100% renewable electricity
Vodafone's entire European operations are now powered by 100% renewable sources – including mobile and fixed networks, data centres, retail and offices. From a local perspective, Vodafone Ireland's network is also powered by 100% renewable electricity. This has allowed us to achieve our revised target of using 100% green energy by the middle of 2021, having originally planned to reach this milestone by 2025. Vodafone customers across Ireland can be assured that the connectivity they use is now entirely green powered by electricity from renewable sources. This is a major landmark on our journey to achieve 'net zero' carbon emissions by 2030, helping our customers reduce their own environmental footprint, and continuing to build an inclusive and sustainable digital society.
Vodafone Ireland's Targets
100% Renewable Electricity by 2021
Reduce GHG emissions by 40% by 2025
Aiming to achieve net zero carbon emissions by 2030
Drive transport, waste and energy initiatives in line with ISO14001 and ISO50001
In addition, Vodafone Ireland is the first network in Ireland to offer eSIMs. eSIMs are virtual SIM cards that provide the same service as a physical SIM card, but with the data stored on a dedicated chip in a phone rather than on a plastic SIM. This removes the need to manufacture and ship the associated plastic, thereby reducing carbon footprint.
Cutting our emissions and helping our customers cut theirs
At Vodafone, we believe that urgent and sustained action is required to address the climate emergency. Business success should not come at a cost to the environment, and we are committed to ensuringthe greening of all of our activities. This means not only tackling issues like our carbon footprint and e-waste, but also giving customers the option to purchase more sustainable products.
We have launched a number of green initiatives to empower our customers to go green including:
TRADE IN: There is also a device trade in service available within our retail stores where customers can bring their old and unused devices in exchange for a reduced price on their new device. By trading in a device, customers are providing that device with a new lease of life because it can then be offered to other customers elsewhere in Ireland. This can reduce the need to produce more devices. If the device is beyond economic repair, we will ensure that is recycled to WEEE standards.
ECO RATING: We are the first operator in Ireland to launch the new ECO-rating service. This a new labelling scheme that helps customers identify and compare the most sustainable mobile phones and encourage suppliers to reduce the environmental impact of their devices. Eco Rating evaluates the impact smartphones and featurephones make on our environment throughout the entire lifecycle of the device.
IOT: Through our Internet of Things (IoT), we are helping customers reduce their emissions in different ways. In terms of logistics and fleet management, IoT has the ability to identify optimal delivery routes to save time and improve efficiency. This helps to increase productivity and decrease fuel consumption resulting in a reduction of carbon footprint. Also Smart Metering has become more available, meaning meters can be managed remotely reducing the need to physically send people to record the latest information. This is again leading to considerable reductions in carbon footprint.
Reducing waste and helping to build a circular economy
We have pledged to reuse, resell or recycle 100% of the company's network waste by 2025. Resource efficiency and waste disposal management programmes have been implemented to minimise the environmental impact of network waste and redundant IT equipment. Many adults across Ireland have multiple devices they no longer use where we encourage people to consider using our Fix and Go device repair service or our Trade In offer. This is all part of driving forward with our circular economy ambition and striving to refurbish and reuse devices where possible.
Making sure we are constantly improving and meeting high standards
Vodafone Ireland is certified with ISO14001 and ISO50001 accreditations, demonstrating our commitment to monitor our environmental performance. This ensures our network is run as sustainably as possible.
ISO14001 is an environmental management standard that shows how we manage our impact on the environment. Maintaining this certification keeps a sharp focus on how and where we generate waste and energy.
Our energy management systems are certified to ISO50001 standard. This ensures that our energy usage is under constant review and continually improving, helping us to deliver a network that is reliable and efficient.
Here are some of things we've been doing ...
Transforming with the Internet of Things
The Internet of Things (IoT) transforms machines, devices and objects into 'intelligent assets' that can communicate with the world around them by connecting them to the internet. Some key examples of sustainable IoT applications are: smart metering, smart cities and smart logistics.
Smart metering uses IoT technology to collect and analyse data on energy use in real time. This helps to optimise power generation and to reduce household energy needs and bills.
Smart cities, which bring networked intelligence into civil infrastructure such as road traffic management and advanced street lighting.
Smart logistics can be used to optimise the use of vehicles by embedding IoT technologies within vehicles to assess routes management, maintenance, driver behaviour and fuel consumption.

Smart Logistics in Action: Vodafone Automotive helps to improve driver performance and safety and fuel efficiency as well as reduce wear and tear with smart logistics.
Cool Planet - an interactive climate change experience
Opened in February 2018, Cool Planet highlights the causes, dangers and effects of,  and solutions to, climate change.
Vodafone Ireland partnered with Cool Planet to sponsor and create the Smart Cities room 'Race to 2050' in the experience. 'Race to 2050' aims to get people thinking about the problems society is facing due to climate change – transport, energy and water - and challenges them to contribute and be part of the solution.
It is estimated that the Cool Planet experience will reach half a million people in the next year.
Sustainability in our workplace
We want all our employees to go about their day in our work place in the most sustainable ways possible.

Our MountainView office has received an LED lighting upgrade in 2018. The design specification includes integrating state-of-theart IoT technology, upgrading the building's lighting controls. This lighting solution comprises intelligent sensors which scan occupancy and irradiance levels to reduce consumption to the desired comfort level. This program has a projected annual saving of 1,920,328 kWh which equates to a saving of 508,000 Kg of CO2 a year.
In 2018, Vodafone Ireland began a campaign to remove single use plastics from our workplace. This has resulted in the removal of 7,000 disposable cups from our waste stream, per week. It has further resulted in the removal of 2,000 single use plastic bottles from our waste stream, per month.
All the veg we consume in our onsite restaurant are part of the 'Wonky Veg' scheme. Food provenance and locally sourced produce are a key part of the offering in our restaurant. All our beef, pork, lamb, milk, eggs and seafood are all locally sourced and 100% Irish!
Our work space, flexible working practices and tools, allows our staff to work in a manner that best suits them to deliver. Allowing Vodafone to optimise the environmental impact of our workplace footprint.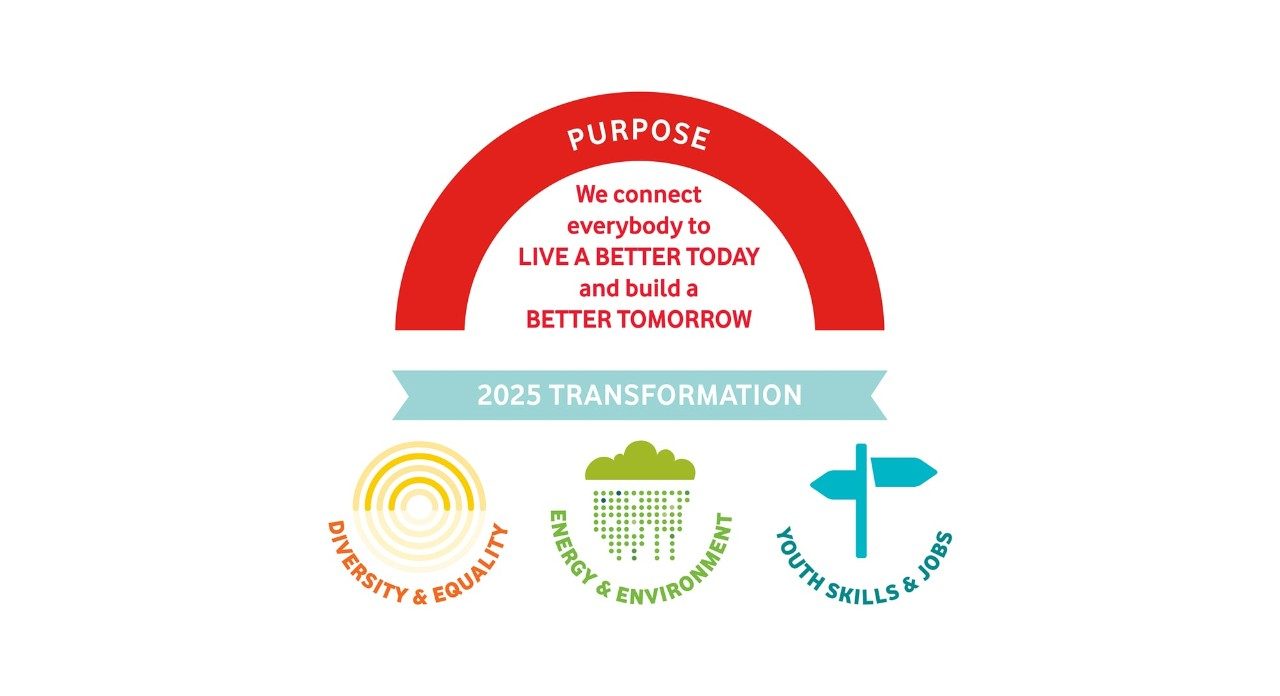 Read our sustainable business strategy