Cutting our emissions and helping our customers cut theirs  
Urgent action is needed to address climate change. This year, we have introduced two new goals which focus on achieving a significant reduction in the greenhouse gas emissions associated with our operations.
We are also helping our customers to reduce their emissions through the use of our Internet of Things (IoT) solutions.
Vodafone Ireland's targets
Reduce GHG emissions by 40% by 2025.
100% Renewable Electricity by 2025.
Drive transport, waste and energy initiatives in line with ISO14001.
Here are some of things we've been doing ...
Transforming with the Internet of Things
The Internet of Things (IoT) transforms machines, devices and objects into 'intelligent assets' that can communicate with the world around them by connecting them to the internet. Some key examples of sustainable IoT applications are: smart metering, smart cities and smart logistics.
Smart metering uses IoT technology to collect and analyse data on energy use in real time. This helps to optimise power generation and to reduce household energy needs and bills.
Smart cities, which bring networked intelligence into civil infrastructure such as road traffic management and advanced street lighting.
Smart logistics can be used to optimise the use of vehicles by embedding IoT technologies within vehicles to assess routes management, maintenance, driver behaviour and fuel consumption.

Smart Logistics in Action: Vodafone Automotive helps to improve driver performance and safety and fuel efficiency as well as reduce wear and tear with smart logistics.
Cool Planet - an interactive climate change experience
Opened in February 2018, Cool Planet highlights the causes, dangers and effects of,  and solutions to, climate change.
Vodafone Ireland partnered with Cool Planet to sponsor and create the Smart Cities room 'Race to 2050' in the experience. 'Race to 2050' aims to get people thinking about the problems society is facing due to climate change – transport, energy and water - and challenges them to contribute and be part of the solution.
It is estimated that the Cool Planet experience will reach half a million people in the next year.
Sustainability in our workplace
We want all our employees to go about their day in our work place in the most sustainable ways possible.

Our MountainView office has received an LED lighting upgrade in 2018. The design specification includes integrating state-of-theart IoT technology, upgrading the building's lighting controls. This lighting solution comprises intelligent sensors which scan occupancy and irradiance levels to reduce consumption to the desired comfort level. This program has a projected annual saving of 1,920,328 kWh which equates to a saving of 508,000 Kg of CO2 a year.
In 2018, Vodafone Ireland began a campaign to remove single use plastics from our workplace. This has resulted in the removal of 7,000 disposable cups from our waste stream, per week. It has further resulted in the removal of 2,000 single use plastic bottles from our waste stream, per month.
All the veg we consume in our onsite restaurant are part of the 'Wonky Veg' scheme. Food provenance and locally sourced produce are a key part of the offering in our restaurant. All our beef, pork, lamb, milk, eggs and seafood are all locally sourced and 100% Irish!
Our work space, flexible working practices and tools, allows our staff to work in a manner that best suits them to deliver. Allowing Vodafone to optimise the environmental impact of our workplace footprint.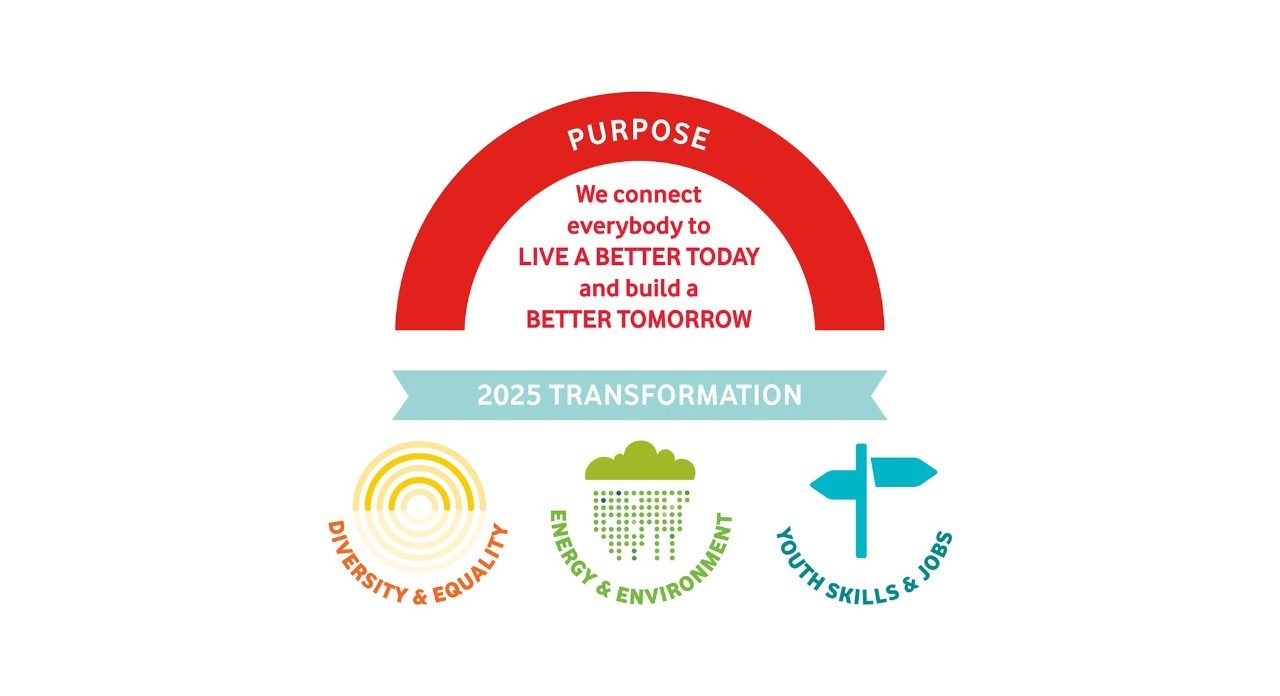 Read our sustainable business strategy